2020 IMS Cleveland Custom Bike Show Winners
2 min read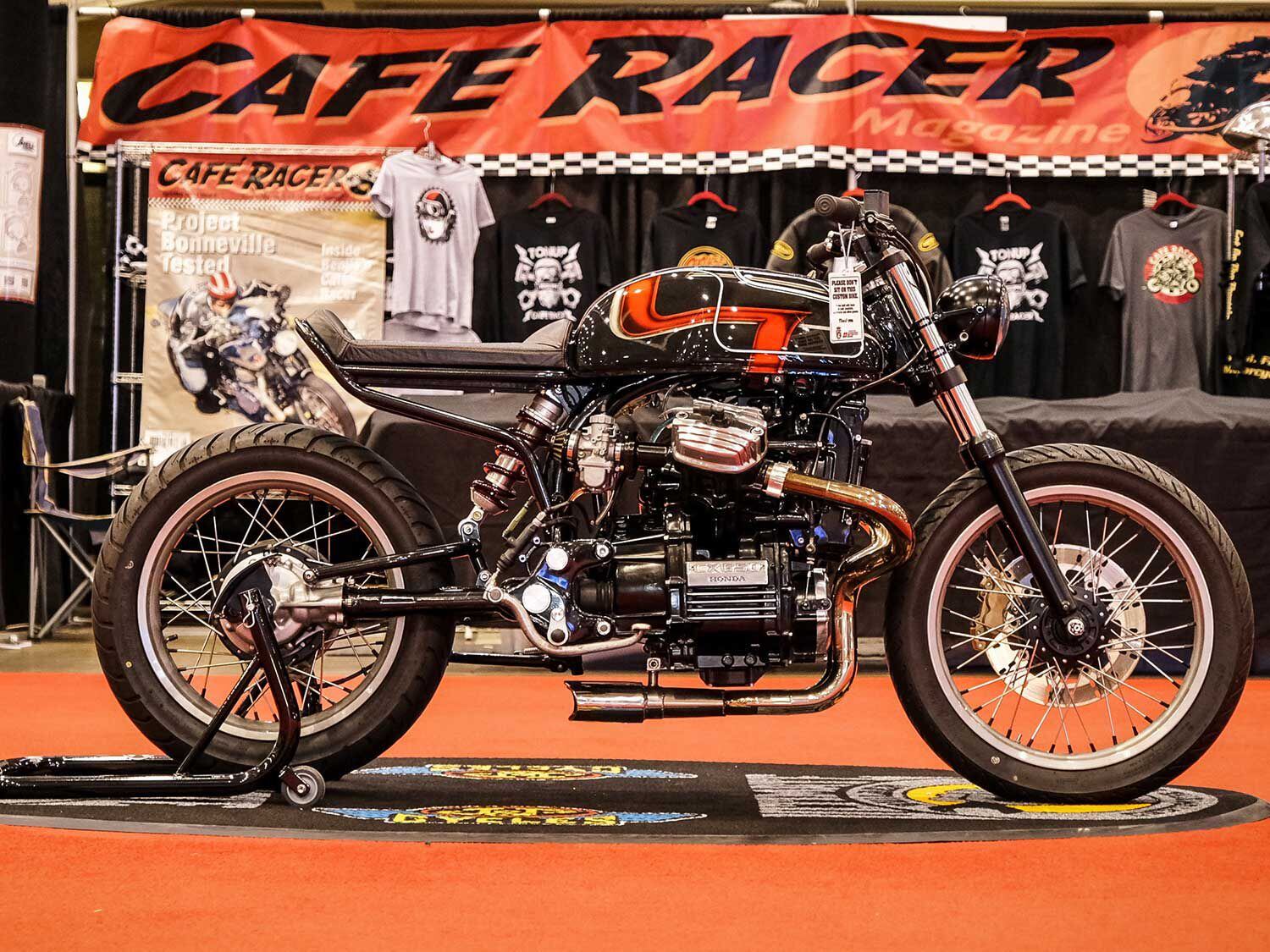 Winning the Custom Classic top prize at the Cleveland stop of the Ultimate Builder Custom Bike Show was Phil Hudson of 6th City Cycles with this 1980 Honda CX500.
The stock CX500 engine was swapped with an '83 CX650 engine for extra horsepower, and Kacey Elkins applied the slick paint. (Manny Pandya/Progressive International Motorcycle Shows/)
The winning bikes from the latest stop of the 2019/2020 Ultimate Builder Custom Bike Show (UBCBS) sponsored by J&P Cycles have been announced by the Progressive International Motorcycle Show (IMS). The IMS custom bike competition has really ramped up with the sixth round of the series in Cleveland last weekend, bringing in an excellent crop of standards, classics, and even choppers. The winning bikes from each round move on to compete in the championship round in Chicago on February 9 for a chance at the grand King of the Builders prize.
Related: 2020 Denver IMS Custom Bike Show Winners
It's the 10th year for the UBCBS, which has produced an amazing number of top-shelf customs over the years. The categories in the current series include Custom Classic, Custom Street, Freestyle, and People's Choice. There's only one stop left on the tour (Minneapolis) before the big finale in Chicago, which is shaping up to be a doozy with some tight competition for the top trophy. To learn more, visit: motorcycleshows.com/UBCBS.
Custom Classic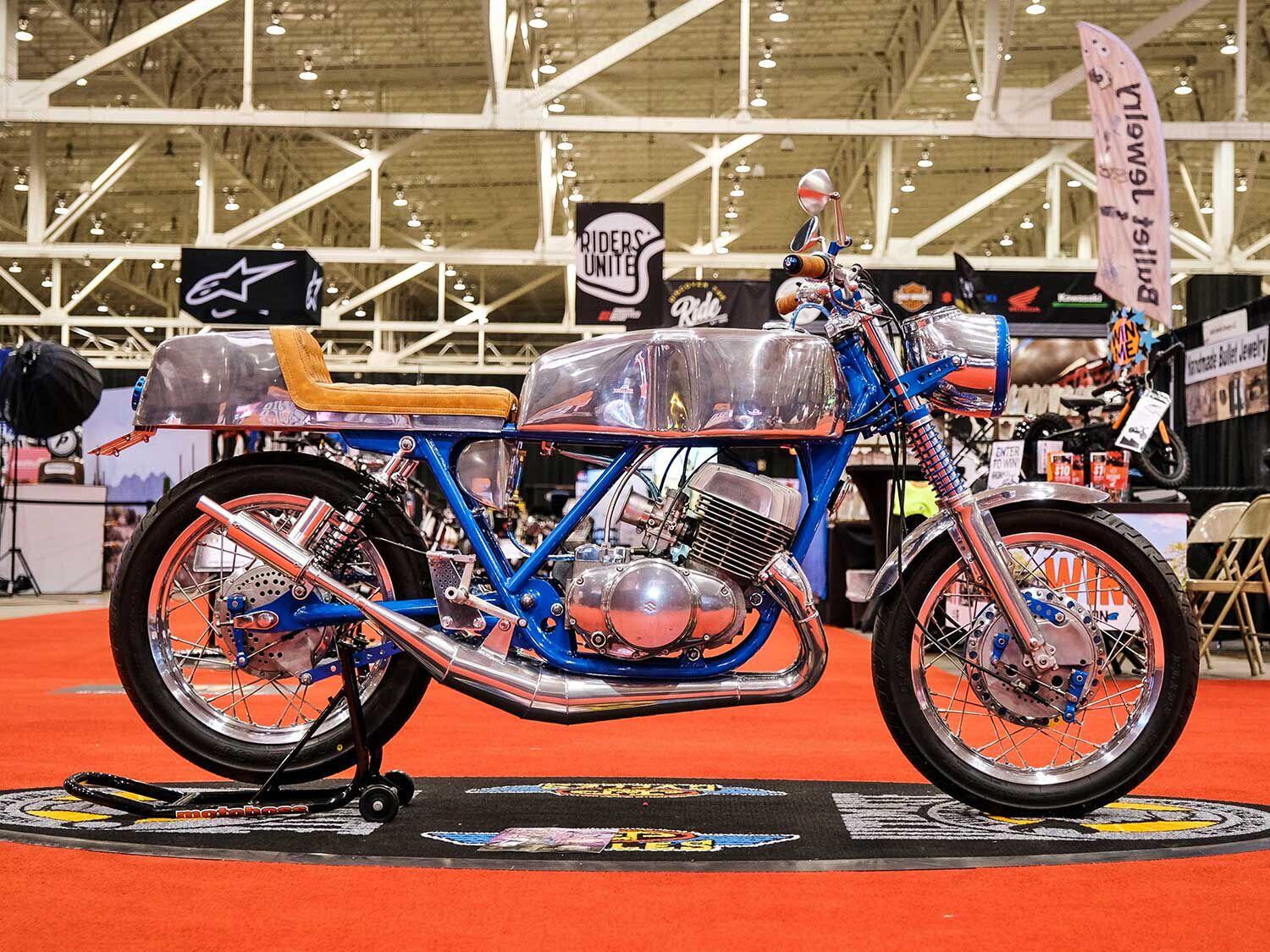 This 1969 Suzuki T500 packing a 500cc two-stroke twin-cylinder engine submitted by Ralph Spencer with Spencer Motoworks (and painted by Paddock's Paint Works) was selected as runner-up for the Custom Classic category. (Manny Pandya/Progressive International Motorcycle Shows/)
Related: 2019 Long Beach IMS Custom Show Winners
Custom Street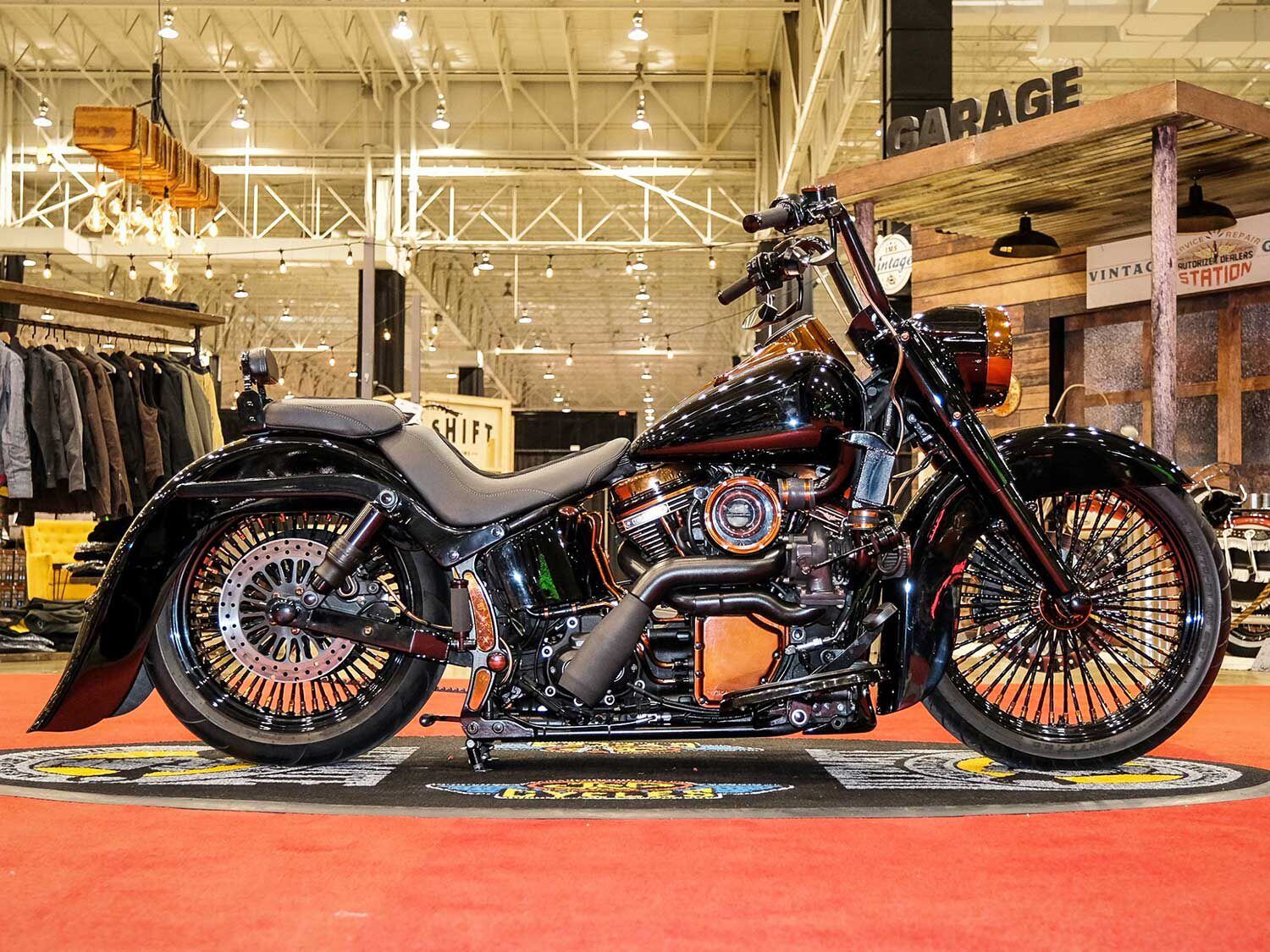 Robert McAreavey of Cynical Cycles with painter South of the Square won first place in Custom Street with a 2016 Harley Fat Boy S featuring a Trask turbo, Zipper Performance engine upgrades, and custom Mustang seat. (Manny Pandya/Progressive International Motorcycle Shows/)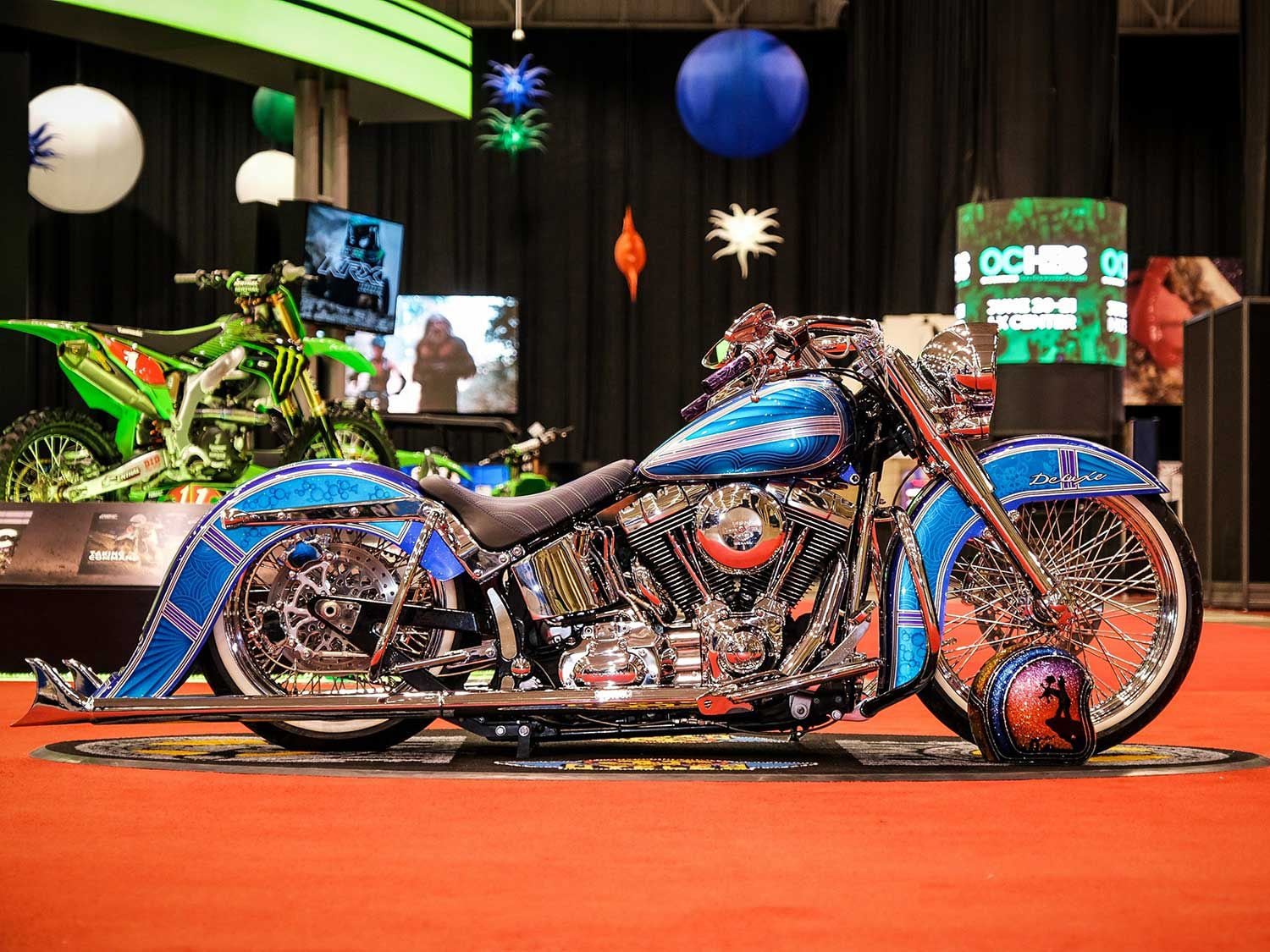 The runner-up was Brad Ritondaro's 2007 Harley-Davidson Softail Deluxe, painted by FlameThrower Customs. Check out those stretched fenders, beach bars, and air ride. (Manny Pandya/Progressive International Motorcycle Shows/)
Freestyle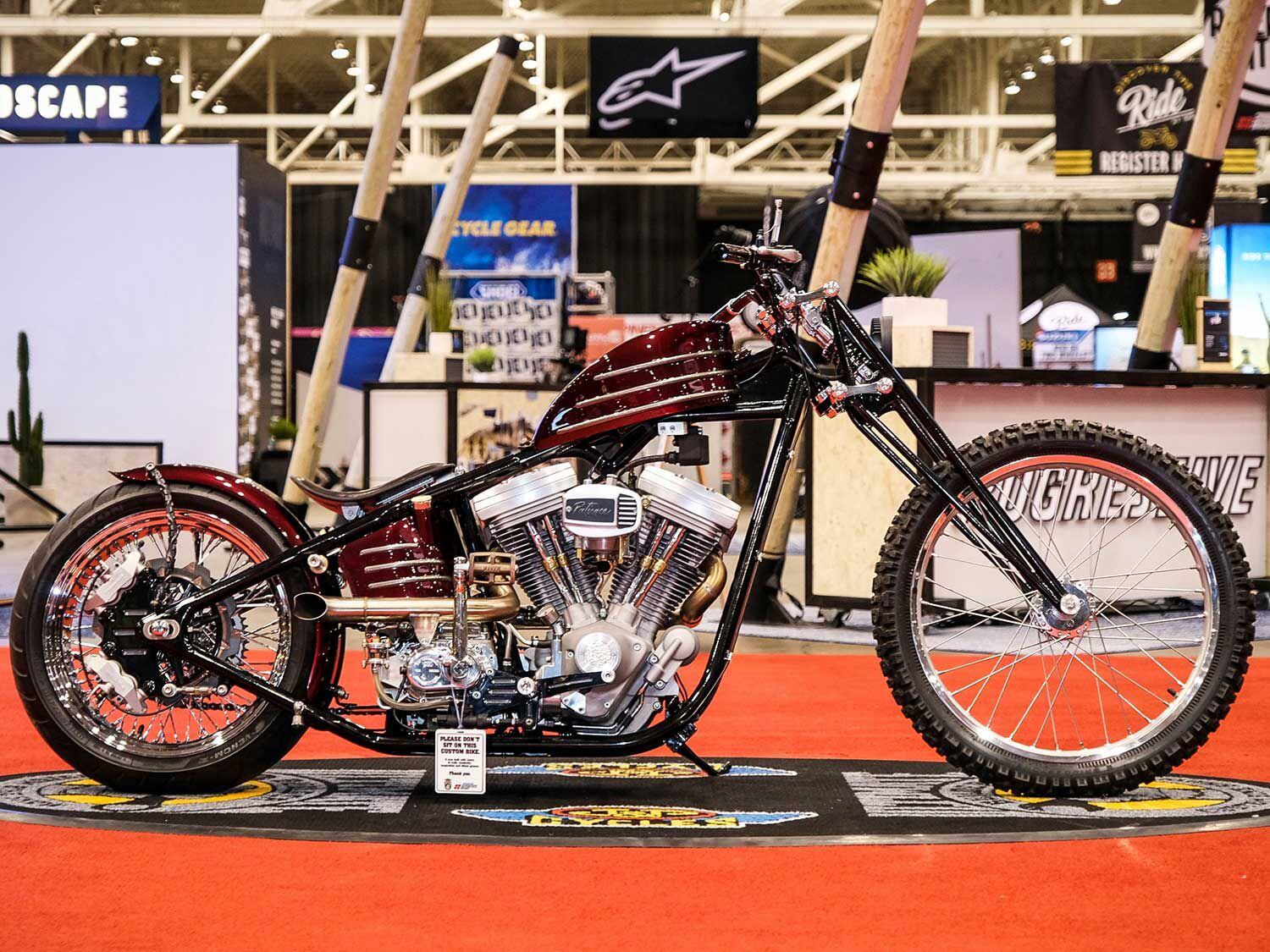 Austin Andrella with Austin Martin Originals grabbed first place in Freestyle with this sweet 2009 stretched Harley-Davidson AMO Rigid, which sports a suicide shift, handmade fuel tank, and paint by Flamethrower Customs and Atomic Bob. (Manny Pandya/Progressive International Motorcycle Shows/)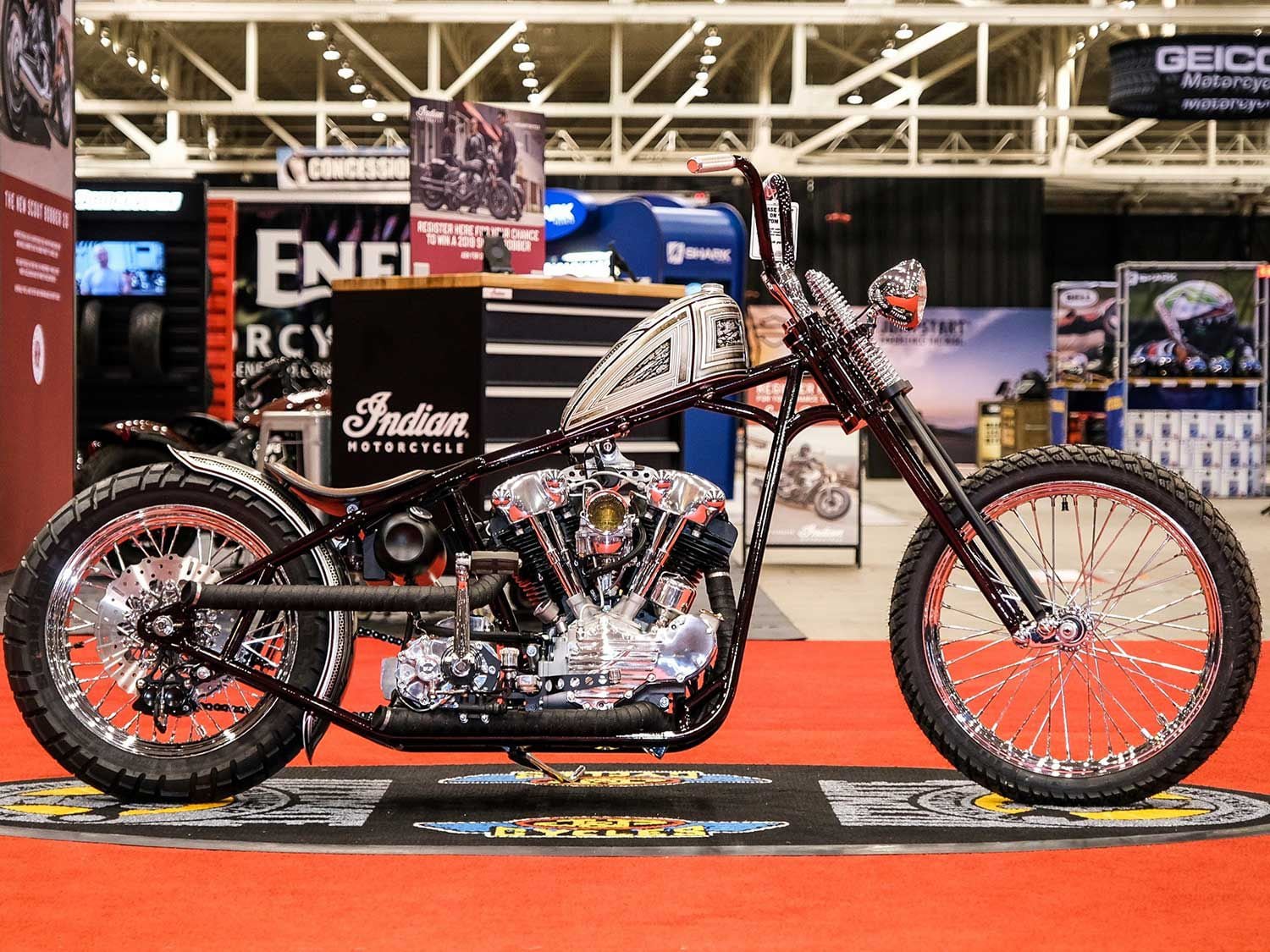 Runner-up in Freestyle was Jesse Srpan's Raw Iron Choppers' "Amour" springer, painted by Mike Valentine of Val Air. Trick features include a one-off frame with mounts and gussets made out of 0.120-wall DOM tubing, Baker Frankentranny six-speed, and a 35-degree rake! (Manny Pandya/Progressive International Motorcycle Shows/)
People's Choice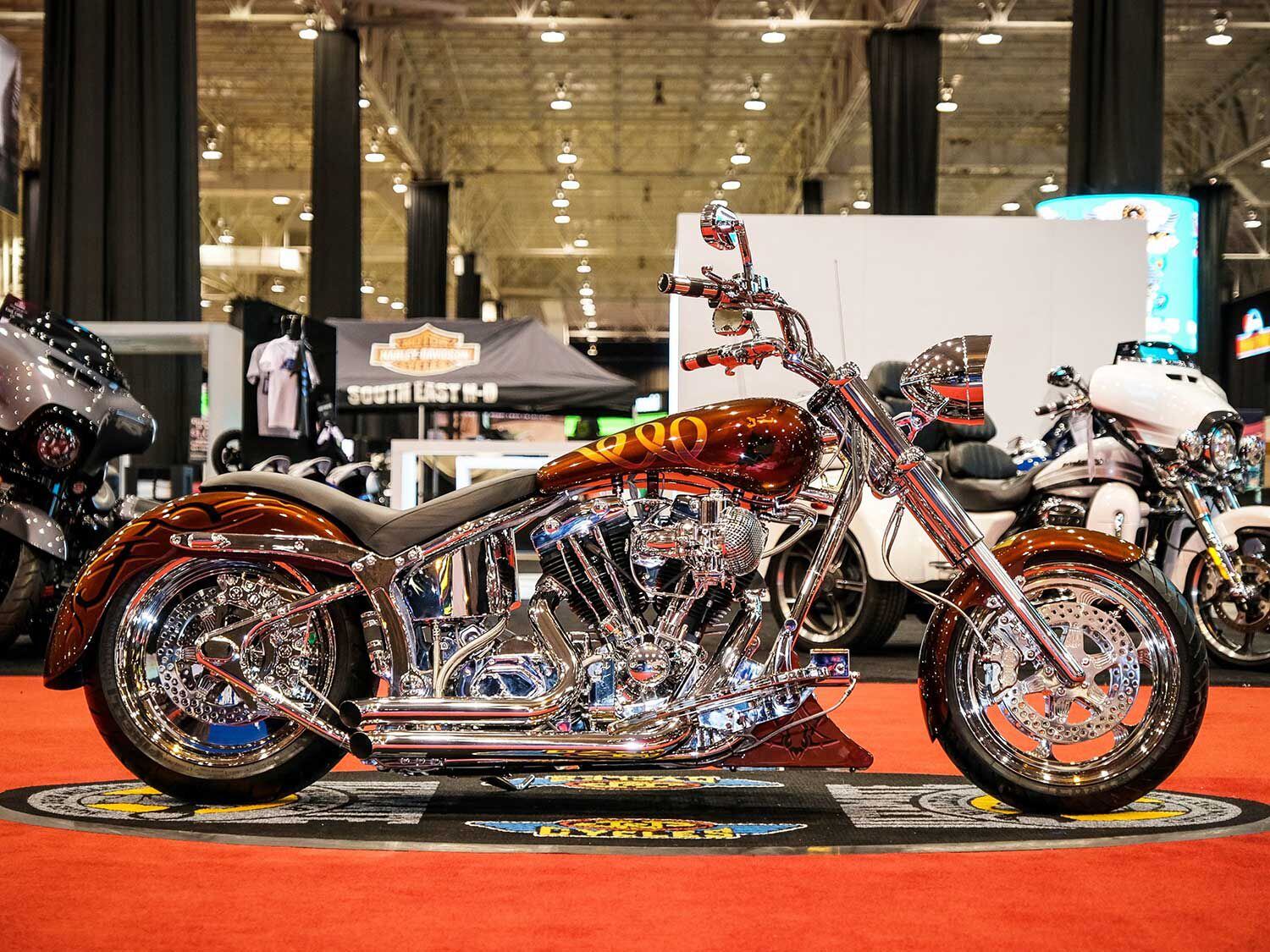 Tom Stine took home the People's Choice Award for his 1972 Harley-Davidson XLCH. The custom motorcycle features a custom chromed frame. (Manny Pandya/Progressive International Motorcycle Shows/)