Lighting Solutions For Motorcycle Shop Spaces
3 min read
A single overhead incandescent light bulb may work fine in a police interrogation room, but it sure as heck doesn't count as adequate lighting for your garage or workspace. If you want to capitalize on the luxury of having a garage large enough to work on your bike in, invest a few bucks in legit lighting solutions that won't leave you in the dark. With good lighting, you'll be able to actually see what the heck you are doing, and not lose small pieces of hardware in the ever-crucial teardown phase. You'll do big favors for your eyesight too by relieving the strain on your vision while working away for hours on end. All those benefits can be gained by merely upgrading the type of lights you hang in your garage. And our lighting package suggestions are fairly inexpensive too.
Tri Bright Shop Light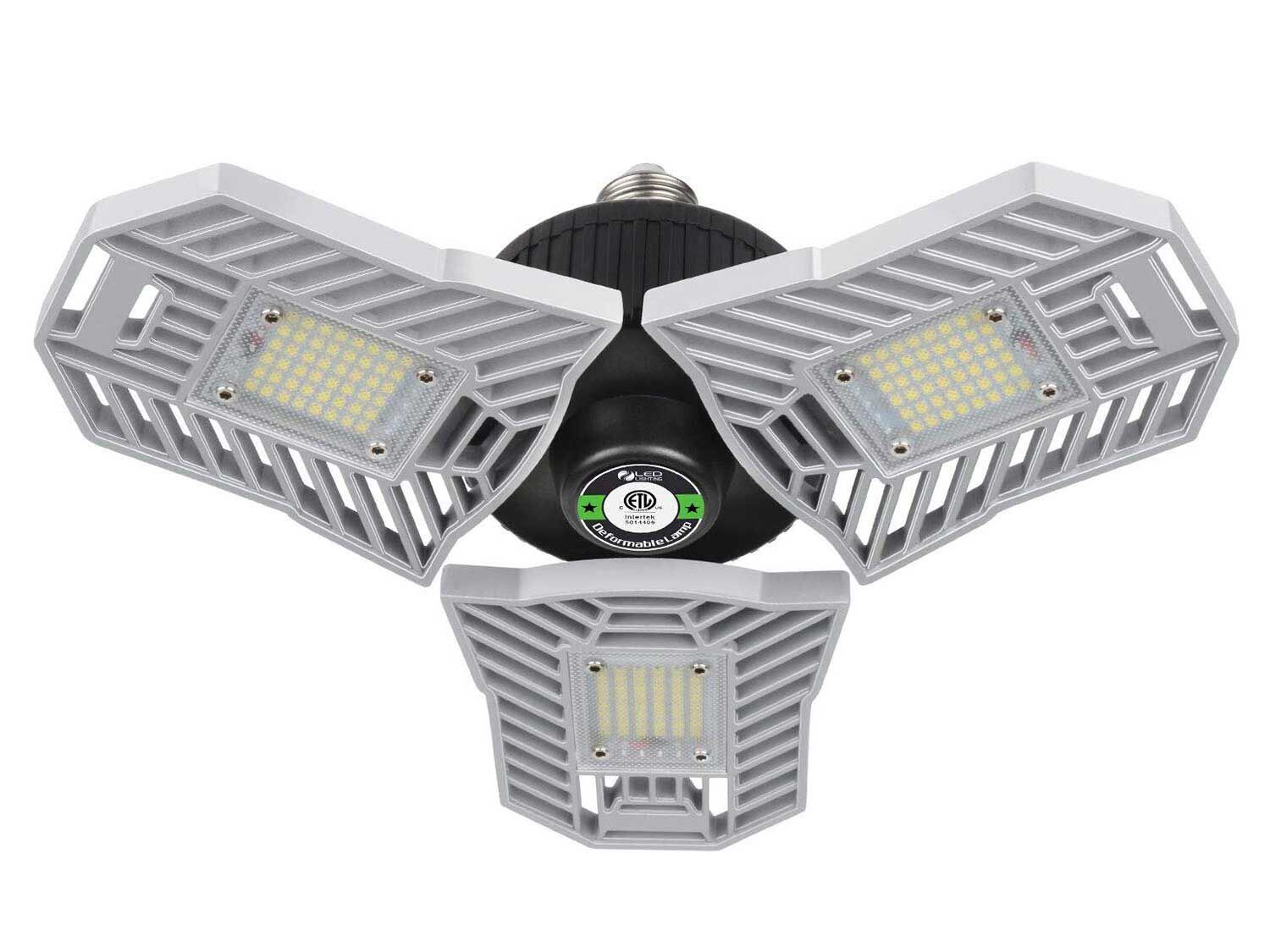 Fold and position your lights to exactly where you want them. (Amazon/)
If there's an overhead light socket in your garage, you can easily replace that burned-out single bulb that was in it with this aluminum three-panel LED fixture instead. This "fixture" doesn't require hardwiring though—it simply screws into the socket like you would with any other bulb, only this option provides much more light than a single bulb. The deformable design allows for each panel to be folded 90 degrees, which lets the light be dialed in to achieve the perfect lighting situation in your garage. Flip the switch on what can now be achieved inside of your workspace.
Hyperlite LED High Bay Light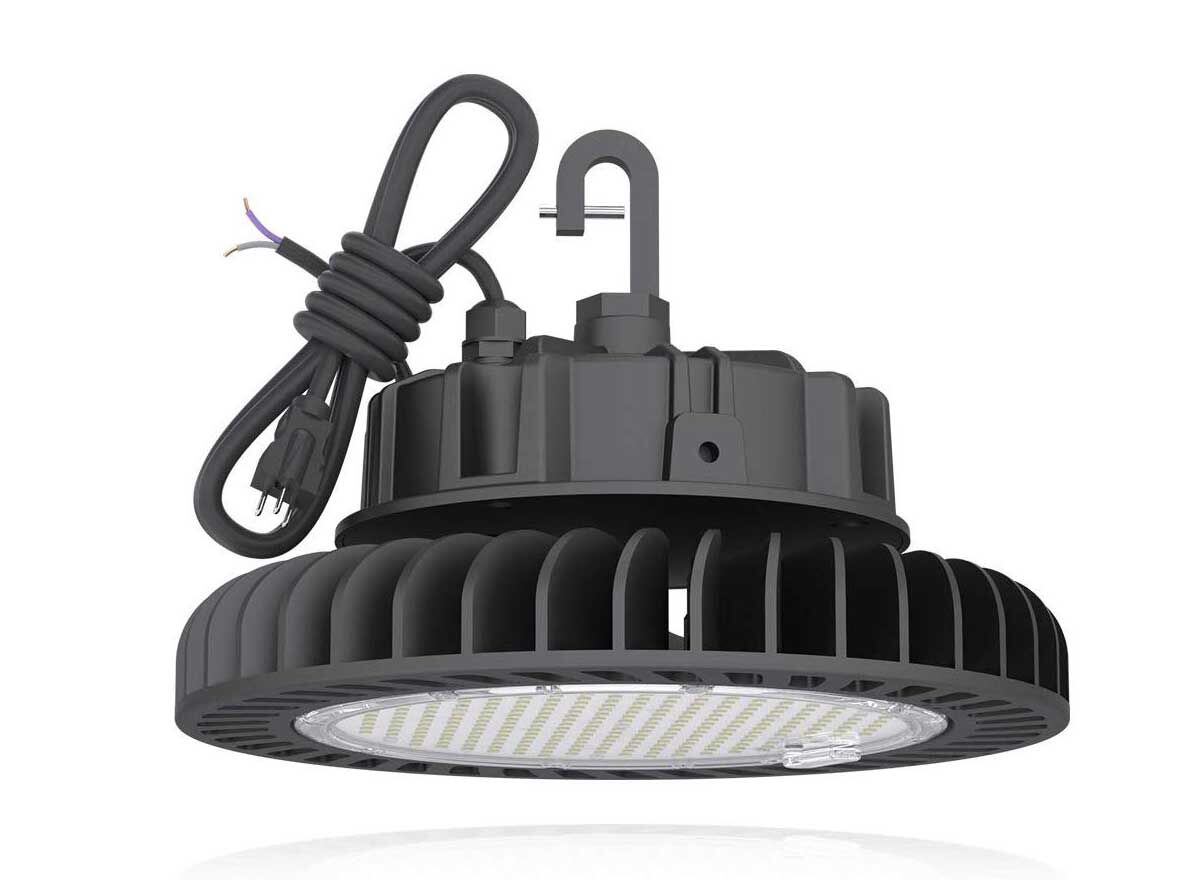 Lots of lumens, weatherproof construction, and dimming capability. (Amazon/)
This 150W LED high bay light pumps out 21,000 lumens, all of which can be accessed as quickly as it takes to hang and plug the light into the socket. The package comes complete with a 5-foot power cord and safety rope that makes installation a very straightforward, stress-free ordeal. The commercial-grade housing is one of the toughest and durable on the market, as it can withstand outdoor weather conditions and operate in temperature ranges from -104 to 122 degrees Fahrenheit. The light is dimmable, which makes it fully capable of adapting to your exact garage/shop space needs.
Hyperikon 4-Foot LED Shop Light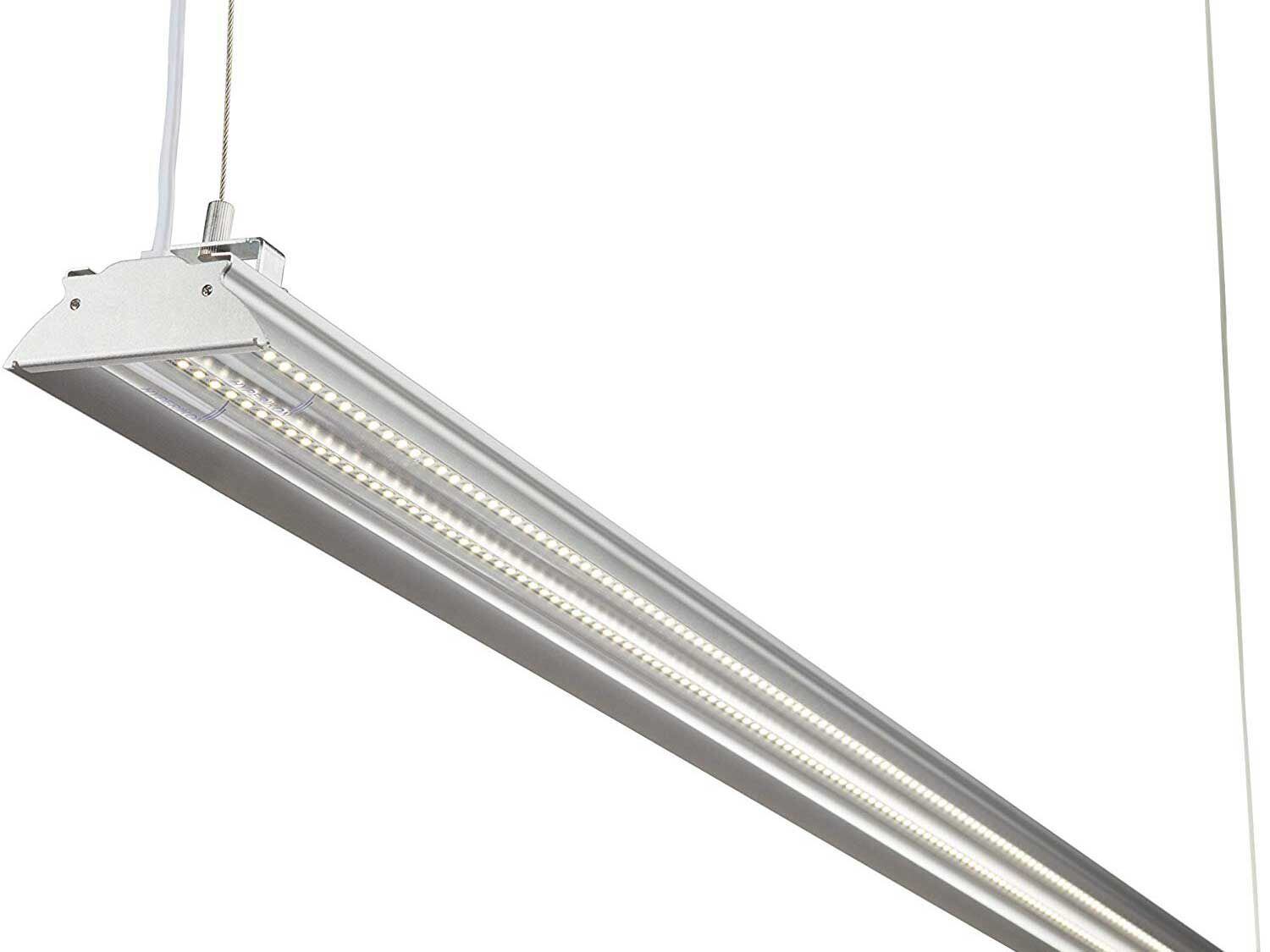 Versatile mount options and a low profile make this an easy add-on. (Amazon/)
This rigid yet lightweight aluminum lighting housing has a low-profile size that allows it to fit just about anywhere while being able to shine an impressive 108 lumen/watt amount of light below it, which should be enough to brighten up even the darkest of caves. Although this fixture looks like the run-of-the-mill fluorescent type, its LED lighting will certainly have a positive effect on your monthly utility bill.
Bosch 12-Volt Max LED Cordless Work Light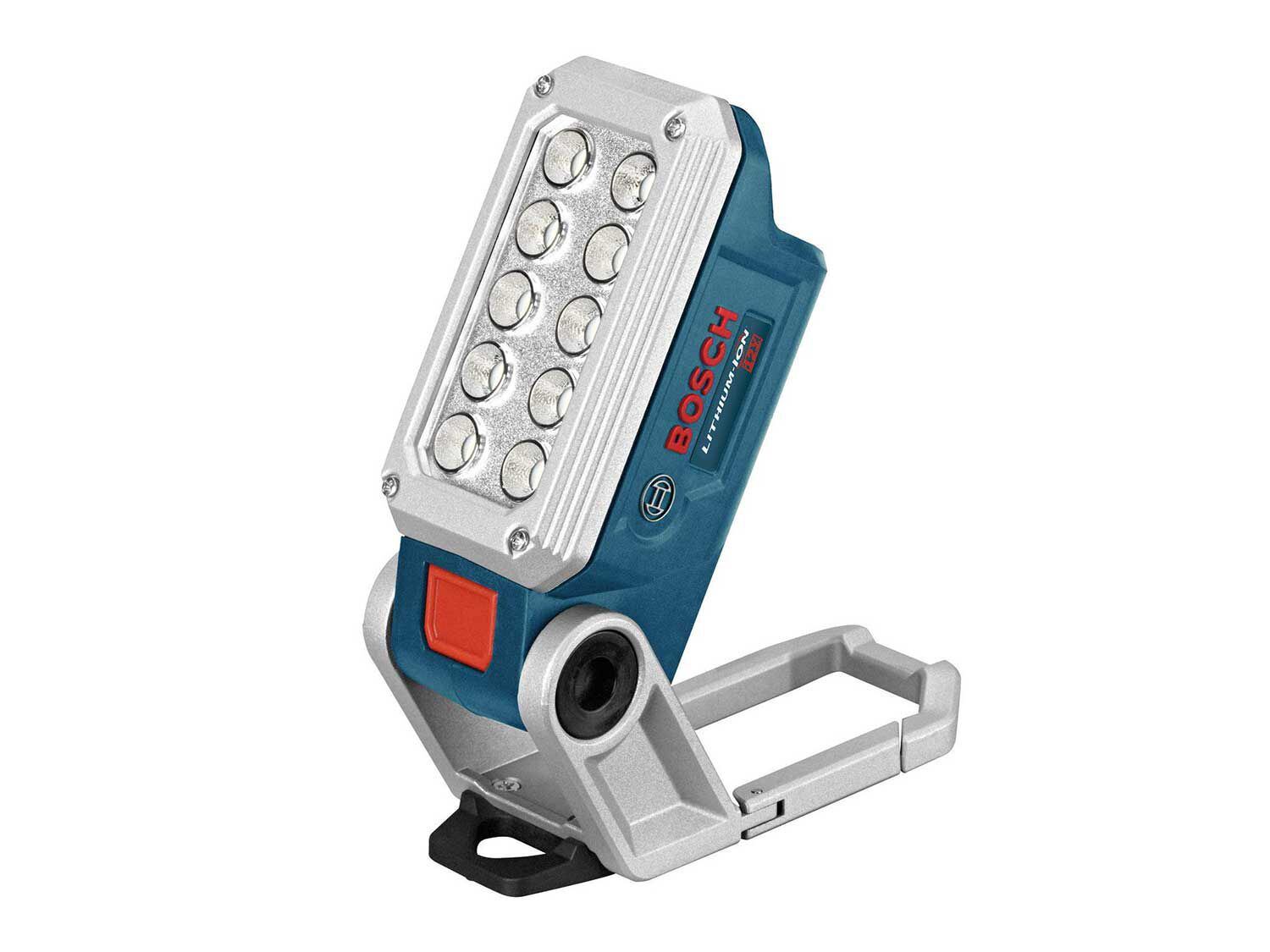 Hang it from a nail, put it on a tripod, or attach to metal, this thing can brighten any space. (Amazon/)
This highly versatile cordless LED work light from Bosch offers best-in-class illumination and brightness from 10 high-intensity bulbs. The housing features 200-degree articulation, as well as two powerful magnets so it can be mounted pretty much anywhere. The light housing is also compatible with standard tripods, and has a nail hook so you can mount it and illuminate a targeted work area. Depending on the rechargeable battery, this light can provide up to 12 hours of runtime, and almost double that longevity when using the dim function.
Equipt EQBPL090 Multifunctional 360-Degree LED Light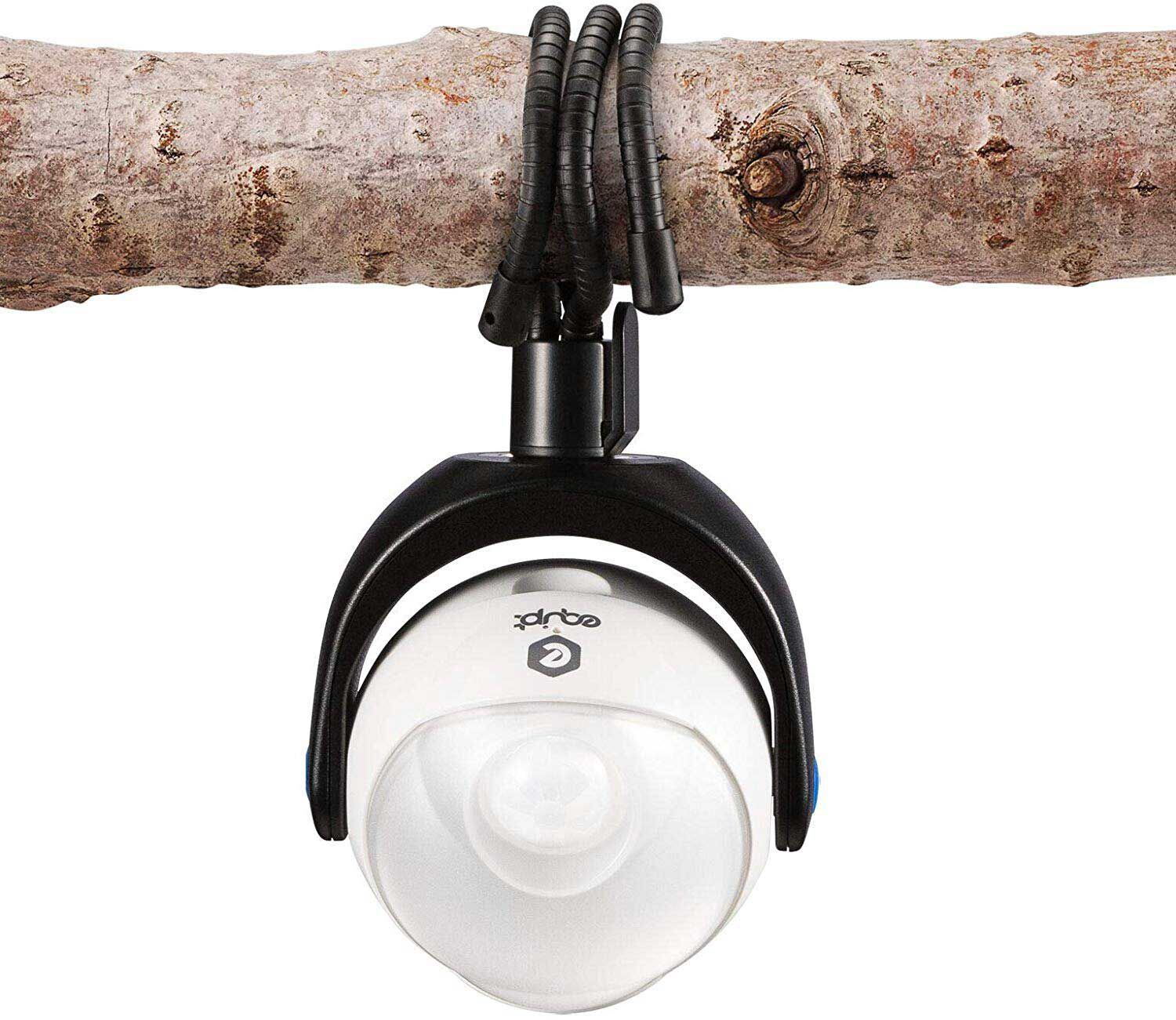 A great choice for camping or any outdoor activity. (Amazon/)
This super-compact LED light puts out an impressive 110 lumens, and runs off three AA batteries. The flexible design features a 360-degree rotating LED head, and bendable legs that can be mounted just about anywhere. An included magnetic mount increases the abilities of where the light can be utilized. Creating light isn't the only trick this thing can do, it also features a motion sensor that detects heat sources within 13 feet, which makes for the perfect light source to take camping or used in any other areas around the house that could benefit from worry-free illumination.