A Ride On Arch Motorcycle's New 2020 KRGT-1
8 min read
.embed-container position: relative; padding-bottom: 56.25%; height: 0; overflow: hidden; max-width: 100%; .embed-container iframe, .embed-container object, .embed-container embed position: absolute; top: 0; left: 0; width: 100%; height: 100%;
The latest KRGT-1 mixes roadster with touches of café racer, but at its heart is still that monster S&S 124ci V-twin motor that screams hot rod. (Courtesy Arch Motorcycle/)
The first few slugs of morning java had been nice and strong, the day was looking clear and warm, and the new Arch Motorcycle KRGT-1 was just crouching there, looking seductive and ready to rip. So what was the problem?
The problem was I had to get out of my own head. Jumping on somebody else's brand-new motorcycle and promptly heading into demanding mountain terrain can be a fraught situation, what with the ever-changing road conditions, the mercurial weather, and even the kind of motorcycle you're on. Add to the fact that I'd be piloting a unique, expensive machine, with only two others like it in existence (at the time) and, well, you could see how it'd feel like a pressure cooker if you thought about it too much. Like I was. And how about the fact that the builder/designer and owner would be on the ride with me? Yeah, I was feeling the heat, even though I knew better.
Related: Arch Motorcycles KRGT-1 Walkaround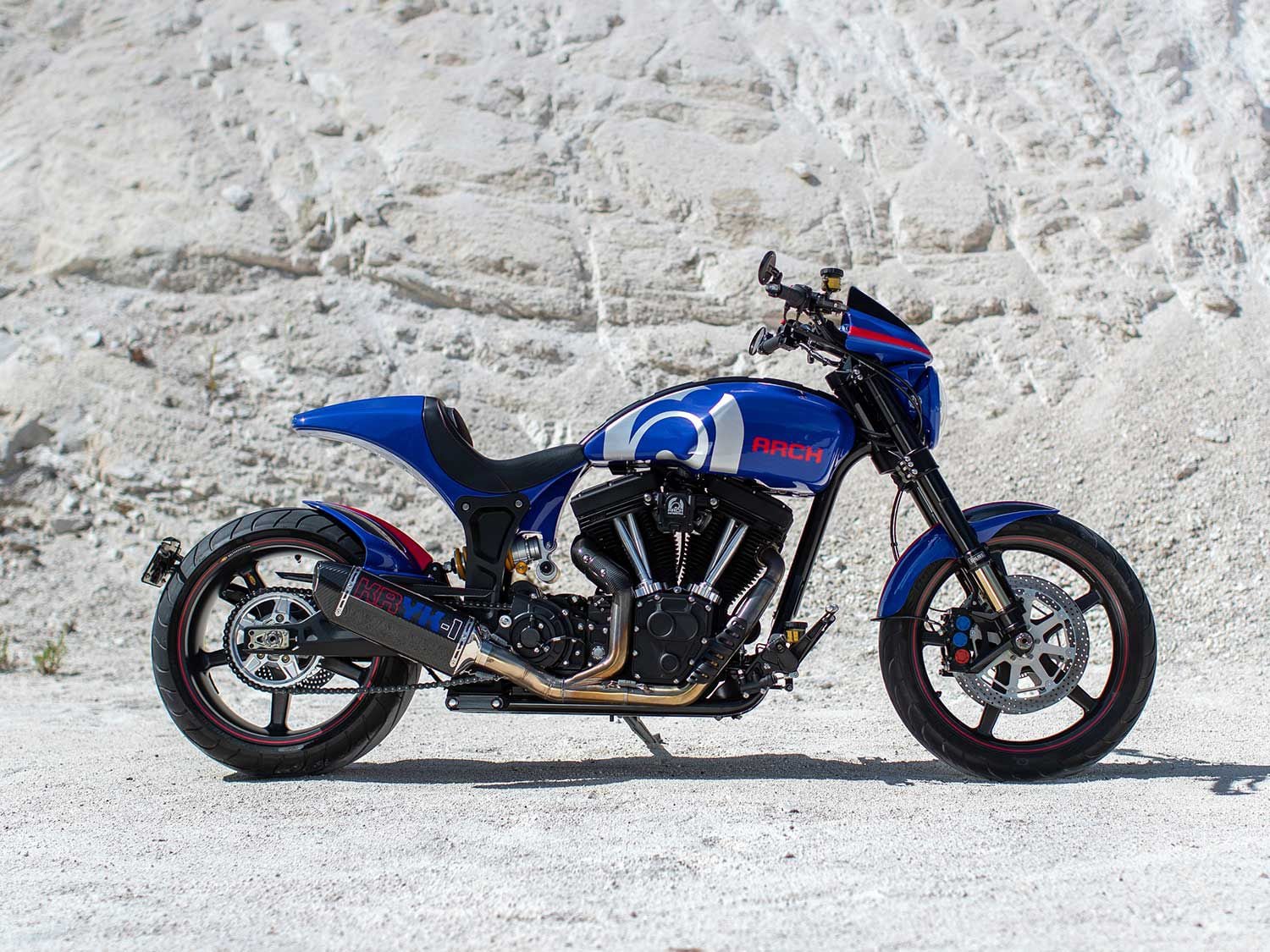 Reshaped aluminum bodywork, redesigned Öhlins suspension front and rear, improved brakes, and a refined frame all went into the new KRGT-1. (Courtesy Arch Motorcycle/)
That's the backstory. A month or so ago, the LA-based company had unveiled the 2020 KRGT-1, its latest version of the brand's flagship performance cruiser, which tweaked the styling, improved the suspension, and boosted the braking system substantially. We were invited to ride the new rig in the mountains above Southern California, and needless to say, we jumped at the chance to take a spin on Gard Hollinger and Keanu Reeves' latest product.
Related: Arch Motorcycle's 2020 KRGT-1 Is Here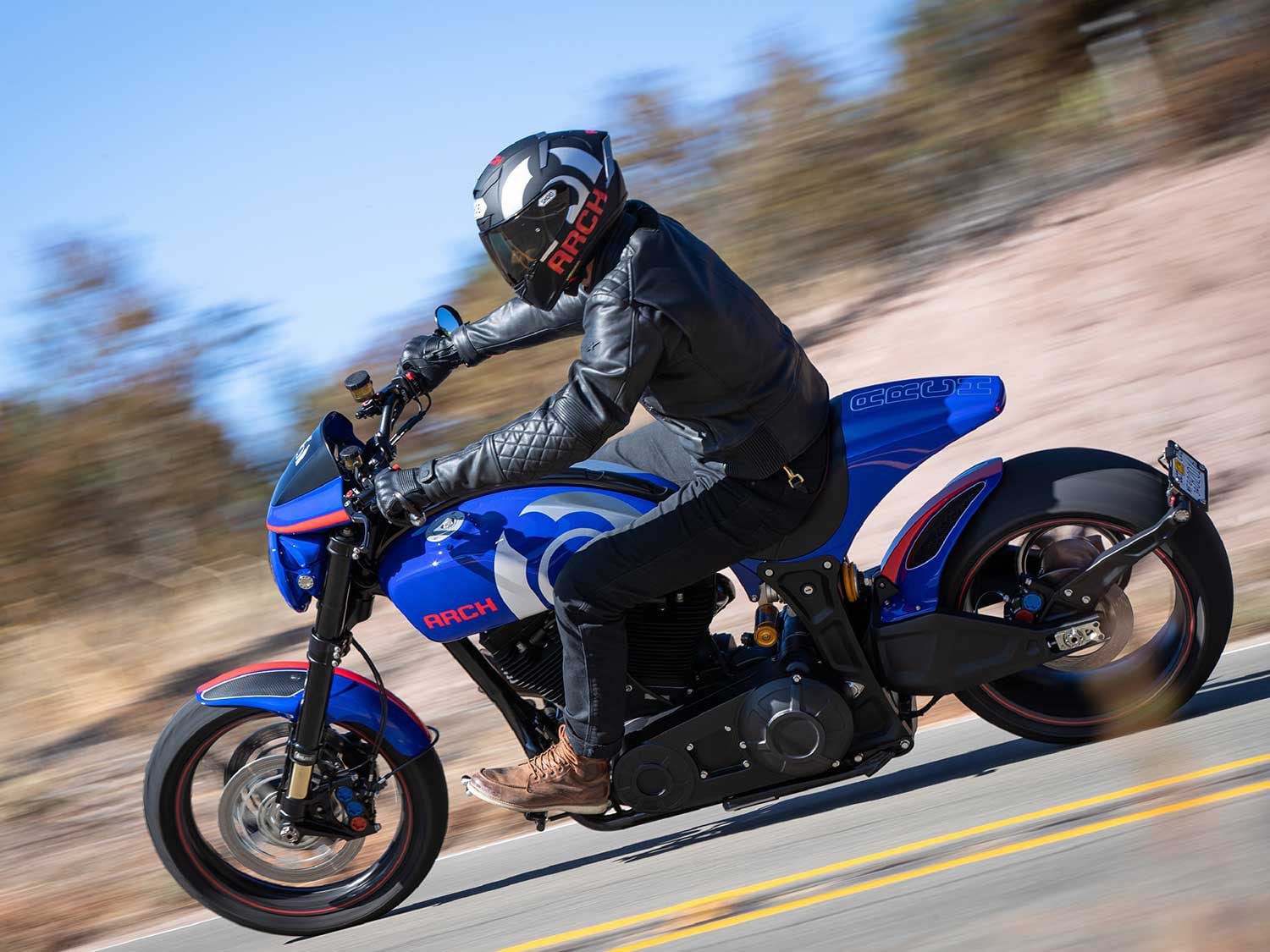 With forward controls and a deep-dished seat, the riding position is fairly upright and more comfortable than expected. (Courtesy Arch Motorcycle/)
The new KRGT-1 wears its improvements well, but those come at a price: a hefty $85,000. For that kind of cash, a motorcycle better get its styling spot-on, and the KRGT-1 is definitely a conversation starter. It's elegant and distinctive, using a combo of mostly billet aluminum, steel, carbon fiber, and a smattering of chrome and blacked-out accents to achieve a refined but dynamic look (each owner can further request certain other cosmetic and aesthetic options). Carrying the visual torch is that uniquely arched top frame tube to which the reshaped billet fuel tank (actually two halves) is mounted. The stubby tailsection also gets new lines, and up front, the screen/cowling has been reshaped to fit the new dash panel. The massive 124ci S&S V-twin sits center stage, and a 240mm rear tire backs up the musclebike theme, with an overall silhouette that radiates brute power. Even if Arch calls the design retro-modern, we see some combo of café racer, speedster, and part cruiser. This may be a high-end luxury boutique motorcycle but it never stoops to looking garish or contrived—no rattlesnake grips or ostrich leather seats here.
The Arch/S&S 124ci V-twin engine employs a unique Arch downdraft breathing system hidden between the billet aluminum tank halves out of the way of the rider's legs. (Courtesy Arch Motorcycle/)
Even as I heaved the KRGT-1 off the sidestand with designer Gard Hollinger and co-owner Keanu Reeves watching, I tried not to let preconceptions get the best of me. Who knows? Maybe a 240-section rear tire rolling at the back end of a 68-inch wheelbase pushed along by a 2,032cc air-cooled V-twin would handle just fine, and fueling would not ever be an issue.
So I turned the key, punched the starter and awakened the massive custom-tuned S&S T124 V-twin, and reveled in the sonic assault—though you'll want to get that sucker into gear post-haste to get away from the intense shuddering. With the first snap of the throttle, I promptly heard a backfire. Then another. Uh-oh…an omen of surging fueling for the big V-twin? Not to worry; 30 minutes into our route along the twisty-licious Angeles Crest Highway, I came to terms with the big bruiser as the S&S mill settled down into a throaty growl. Hold the throttle open and you're rewarded with waves of smooth, relentless thrust, though it comes within a pretty short rev range. But it's easy to row the six-speed Baker transmission and you're on through the gears without much fuss. As we charged the corners and sliced into the canyons, even the KRGT-1's fueling turned out to be strangely accommodating for such a huge capacity air-cooled V-twin.
Despite the 240/40 rear tire, the KRGT-1 is happy to get into the twisties, and there's plenty of positive feel from the 19-inch front wheel. (Courtesy Arch Motorcycle/)
With a sort-of-upright, feet-forward riding position, the KRGT-1 ergos also proved more comfortable than I'd ever imagined; the tall bar had me leaning forward a bit, but not awkwardly so, and the deep scooped seat was far more supportive over the hours than it looked like it'd be. After three plus hours on it, I was good to go for another three, so that's a thumbs-up in my book. It all made for a good cockpit from whence to plan your attack, and with the KRGT-1 more than holding its own in the turns, the pace got quicker and quicker as the day went on. The KRGT-1 is supremely stable and tracks well through high-speed sweepers, but it does require some thought to get through that first turn-in, and you'll need to keep your hand on the tiller to hold the line. Also, let's face it, you do have to treat that superfat 240/40 rear Michelin rubber with respect—there's no traction control or rider modes to nanny you home. But for all that, there's plenty of positive feel and feedback from the front end, even with a 19-inch front wheel.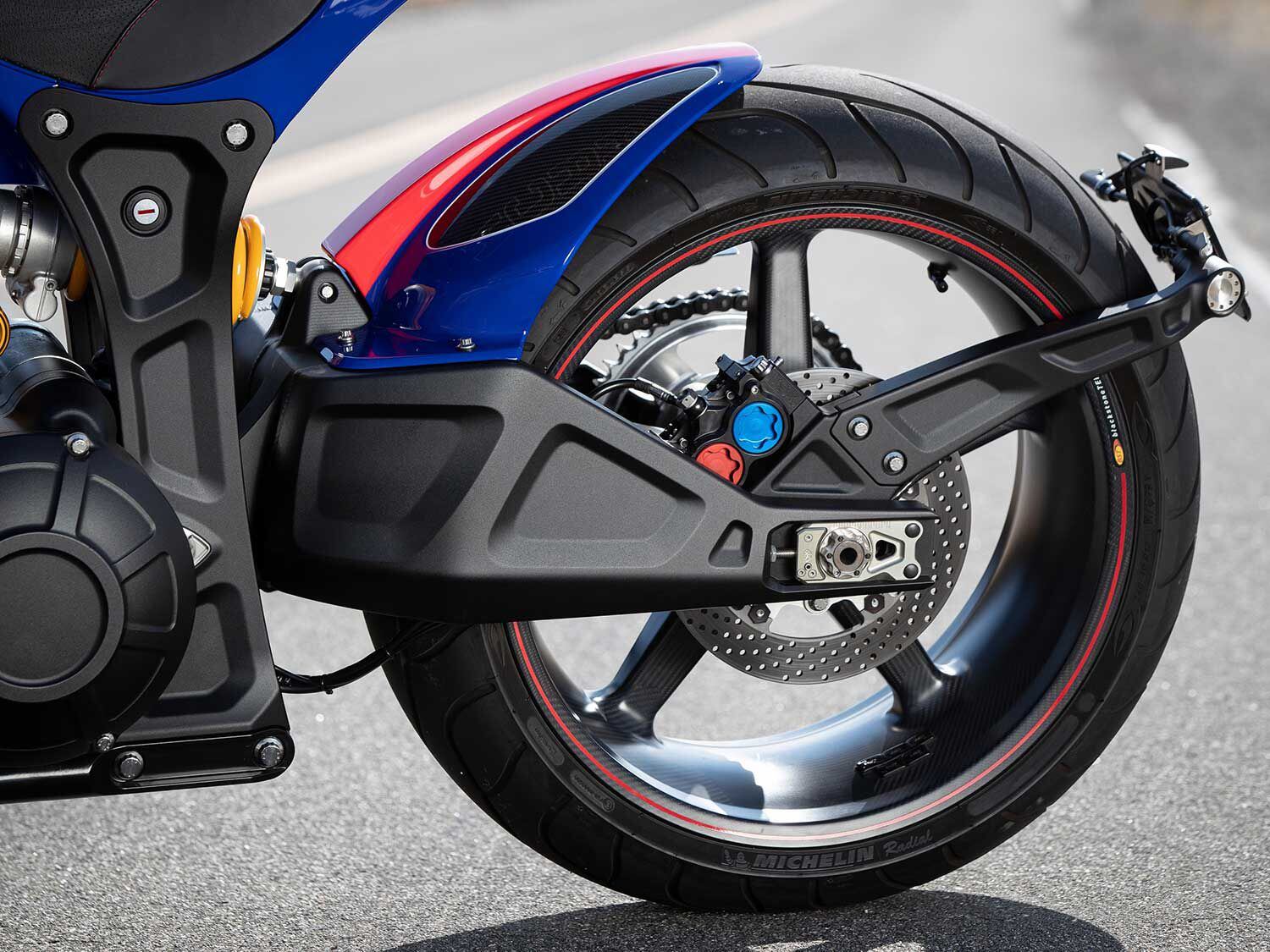 The sculpted, race-inspired billet aluminum swingarm reduces weight and increases rigidity while looking like a piece of art. Tucked in above the swingarm is a fully adjustable, Arch-spec'd Öhlins rear shock absorber set up for sporty but not stiff ride quality. (Courtesy Arch Motorcycle/)
Ride quality? In this case, the choice components tell the tale, with the custom-spec-d Öhlins fork and monoshock dialed in to deliver sporty composure that didn't feel overly stiff (for this 160-pound rider) and, indeed, ate up all but the sharpest-edged bumps without much complaint. Again, that was unexpected because suspension setup is often the weakest link (ahem) on a custom exotic. This cruiser was walking the walk, as well as hustling when it had to—and pretty hard, at that.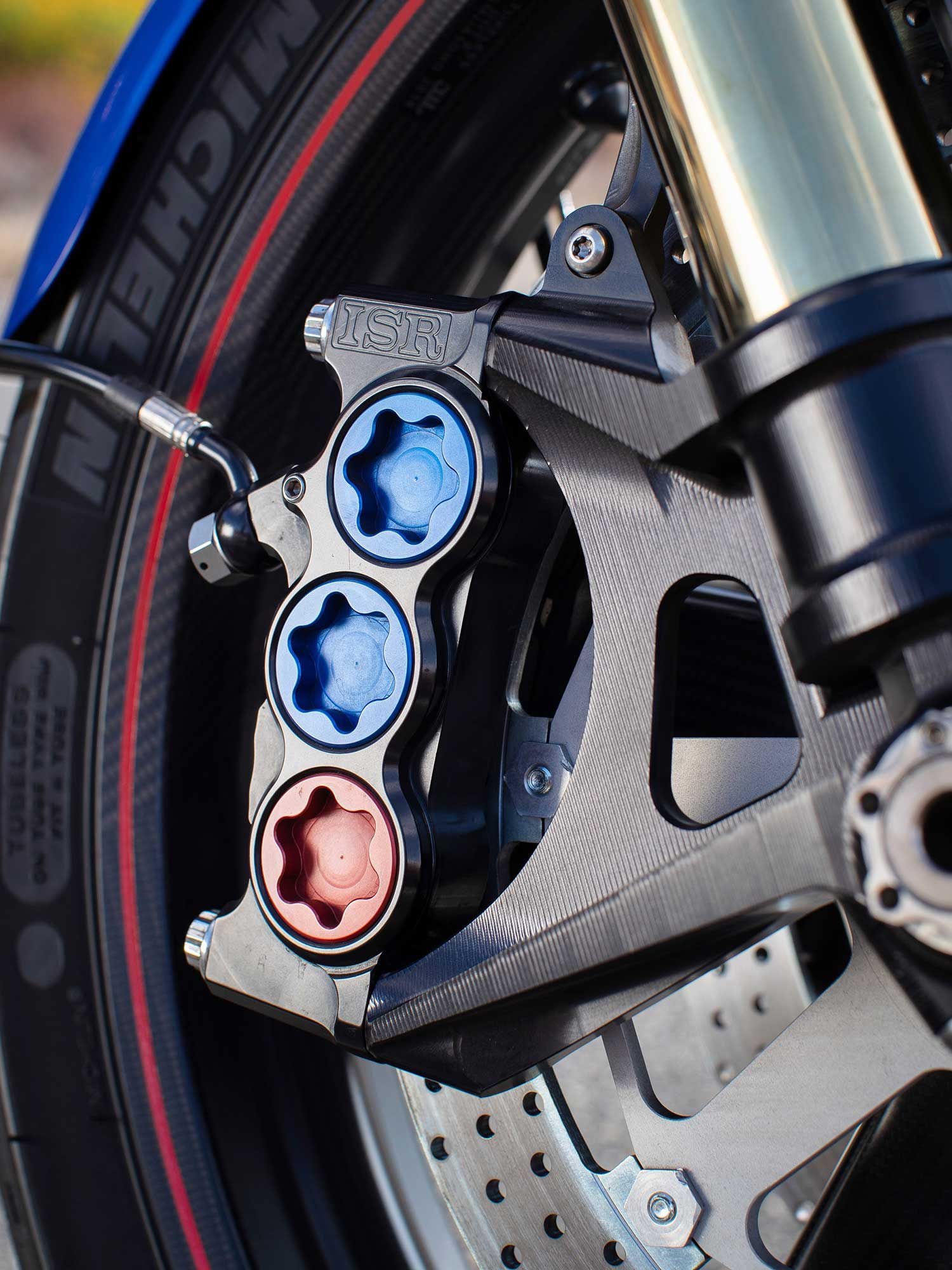 The ISR six-piston front brake calipers bring an increased piston diameter for more stopping power. The 48mm Öhlins fork is fully adjustable too. (Courtesy Arch Motorcycle/)
One last word about the brakes: They're some of the best in the business. The Swedish ISR hardware is more than up to the task of slowing the KRGT-1's prodigious go, with new dual six-piston front brake calipers providing crazy-responsive power and great feel with very little effort. I kid you not, one-finger braking was the norm on our ride. The bike wants to stand-up under heavy braking, but its behavior was predictable and never felt unsettled.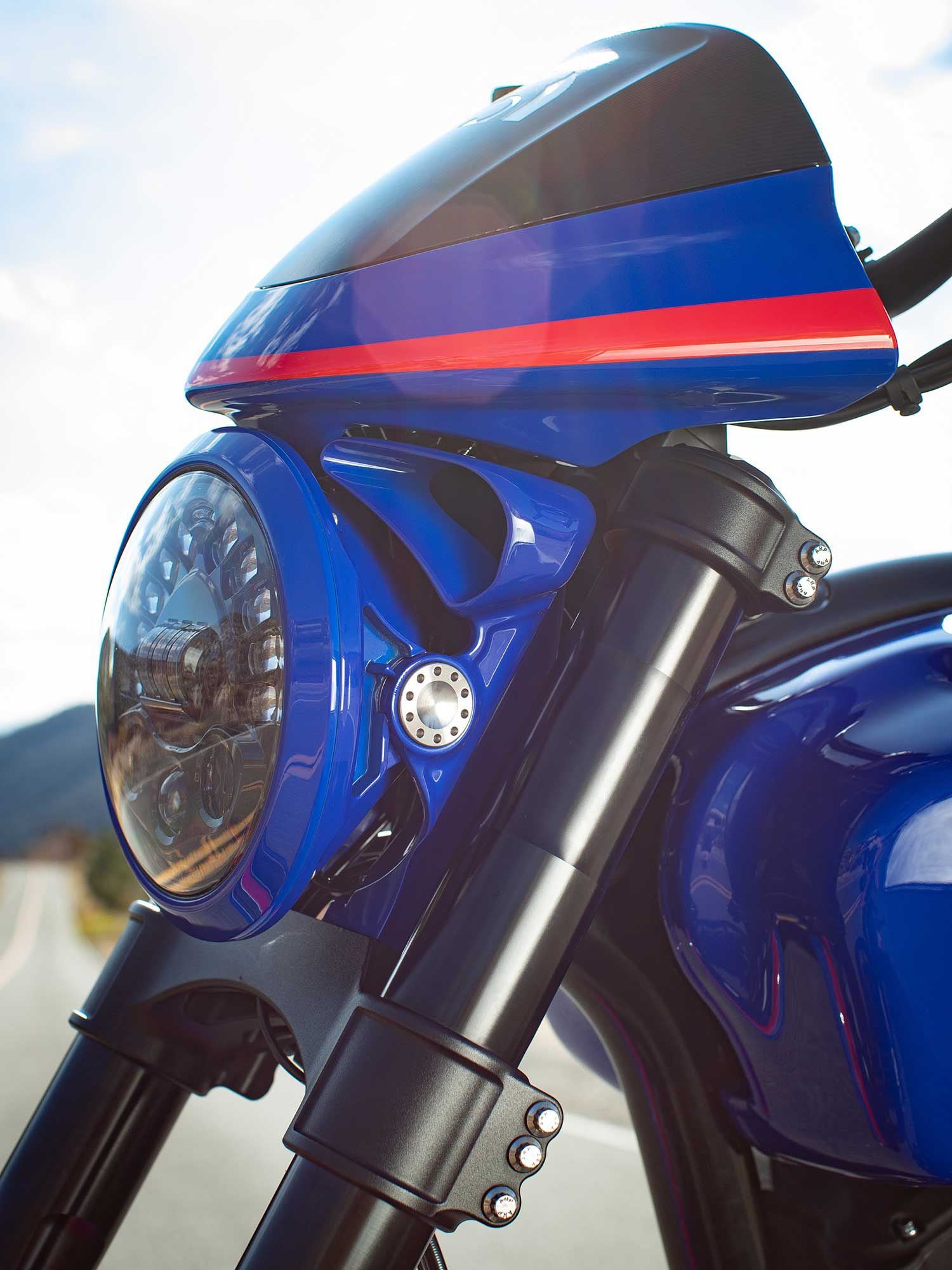 Reshaped, redesigned, and relocated cowling offering better wind protection. (Courtesy Arch Motorcycle/)
Arch says each KRGT-1 is tailored to the ergonomic needs and cosmetic wants of the owner, making every motorcycle unique. We had two bikes to swap onto during the day, with the only (supposed) differences between them being the color. At one point, I found myself on the blue bike and noticed a different graphic on the Yosh pipe than the red one. I didn't think much of it at the time, but when it came time to edit the photos I took more notice of the lettering: The blue bike's pipe was emblazoned with KRYK-1, rather than the usual KRGT-1.
"So, what gives?" I asked Jordan Mastagni, the media contact at Arch.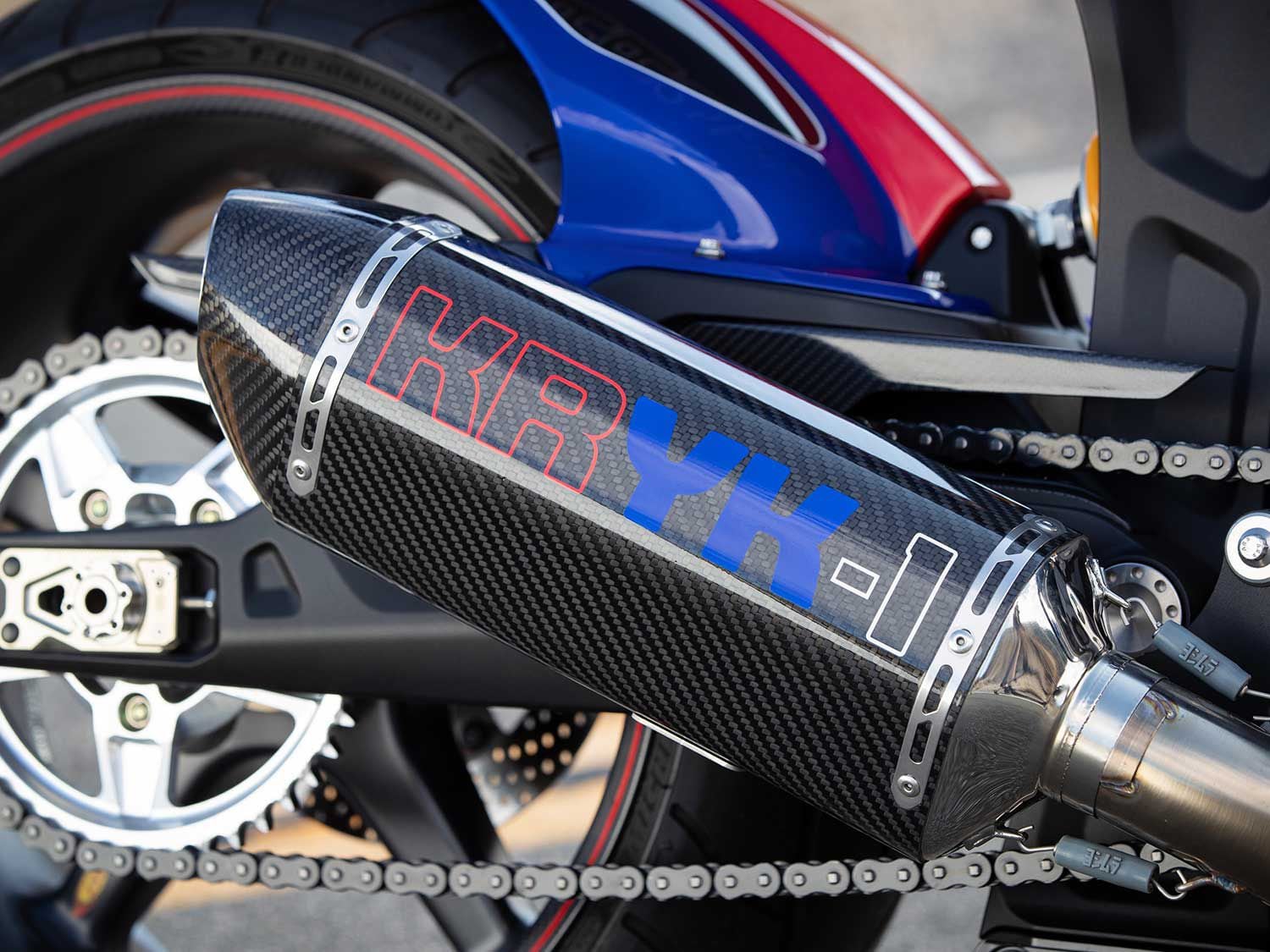 Arch worked with Yoshimura to develop the carbon-fiber muffler. KRYK? That stands for Yves Klein, who patented Yves Klein International Blue, the color this bike is meant to recreate. (Courtesy Arch Motorcycle/)
"Interesting story," Jordan confessed. "When Gard and Keanu were looking for the perfect color blue to paint this motorcycle, they happened upon Yves Klein's International Klein Blue (a shade of ultramarine—Ed.), which Klein claims to have invented and then actually patented. But matching it was not easy. They asked their painter to try and match the color and… They were able to create it. It was quite the process though, with several samples and multiple variations until Gard and Keanu felt it was perfect. Hence KRYK-1.
As we pulled in after our four-hour ride and got off the bikes, I realized I had gotten out of my head somewhere back there on the mountain thanks to the adrenaline rush the KRGT-1 had juiced out of me. Even when Hollinger and Reeves pulled up behind us, and part of me realized that I may have been riding Keanu's personal bike—the KRYK-1—I just let it all hang out. The KRGT-1 was not without its faults and may not be everyone's cup of tea, but it'd been a real blast to ride. "You know what? It's not at all what I expected," I said. Hollinger laughed and said, "Yeah, I hear that a lot."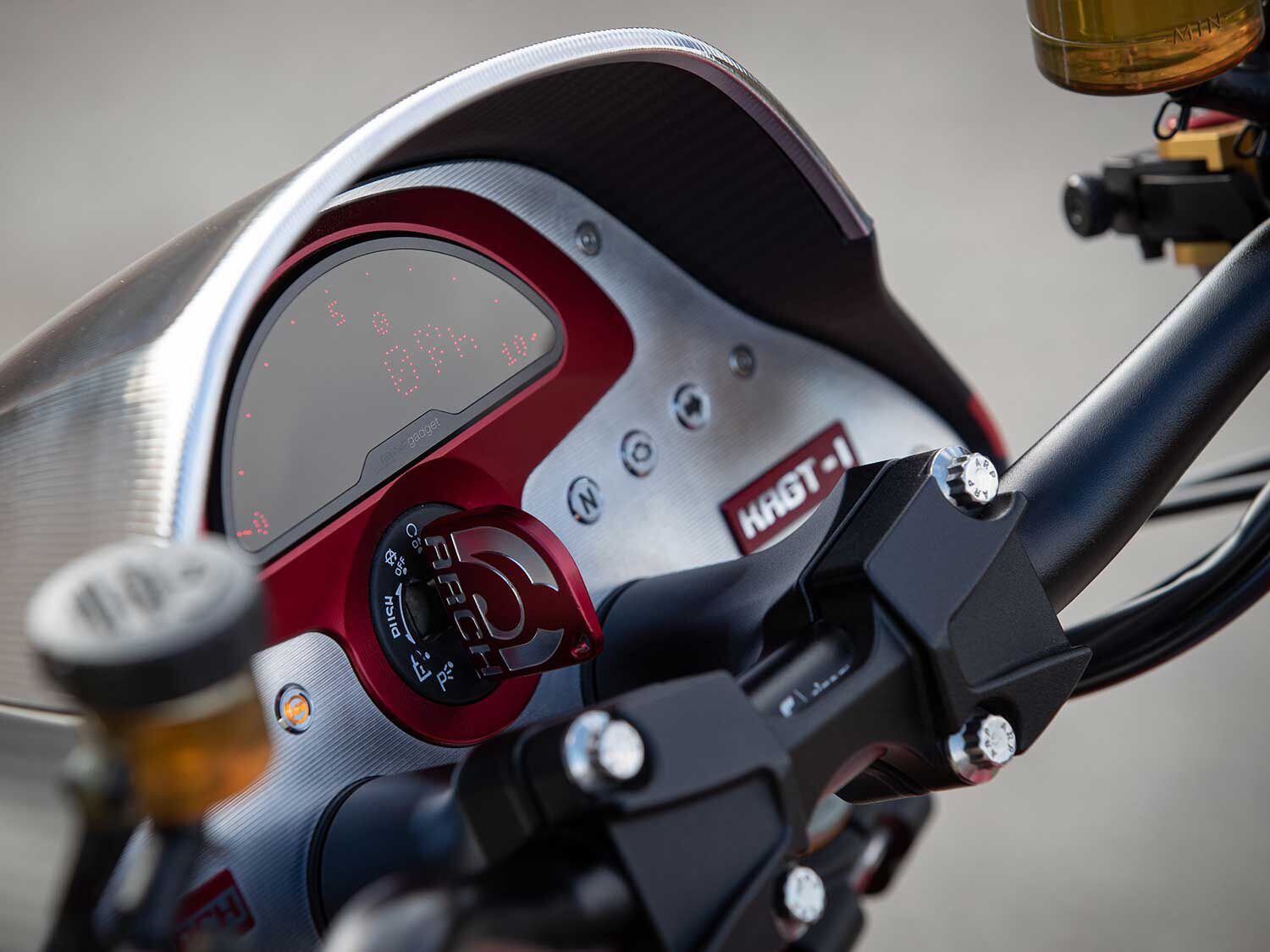 Motogadget Motoscope Pro digital display shows info via retro red-out-of-black dot matrix screen. (Courtesy Arch Motorcycle/)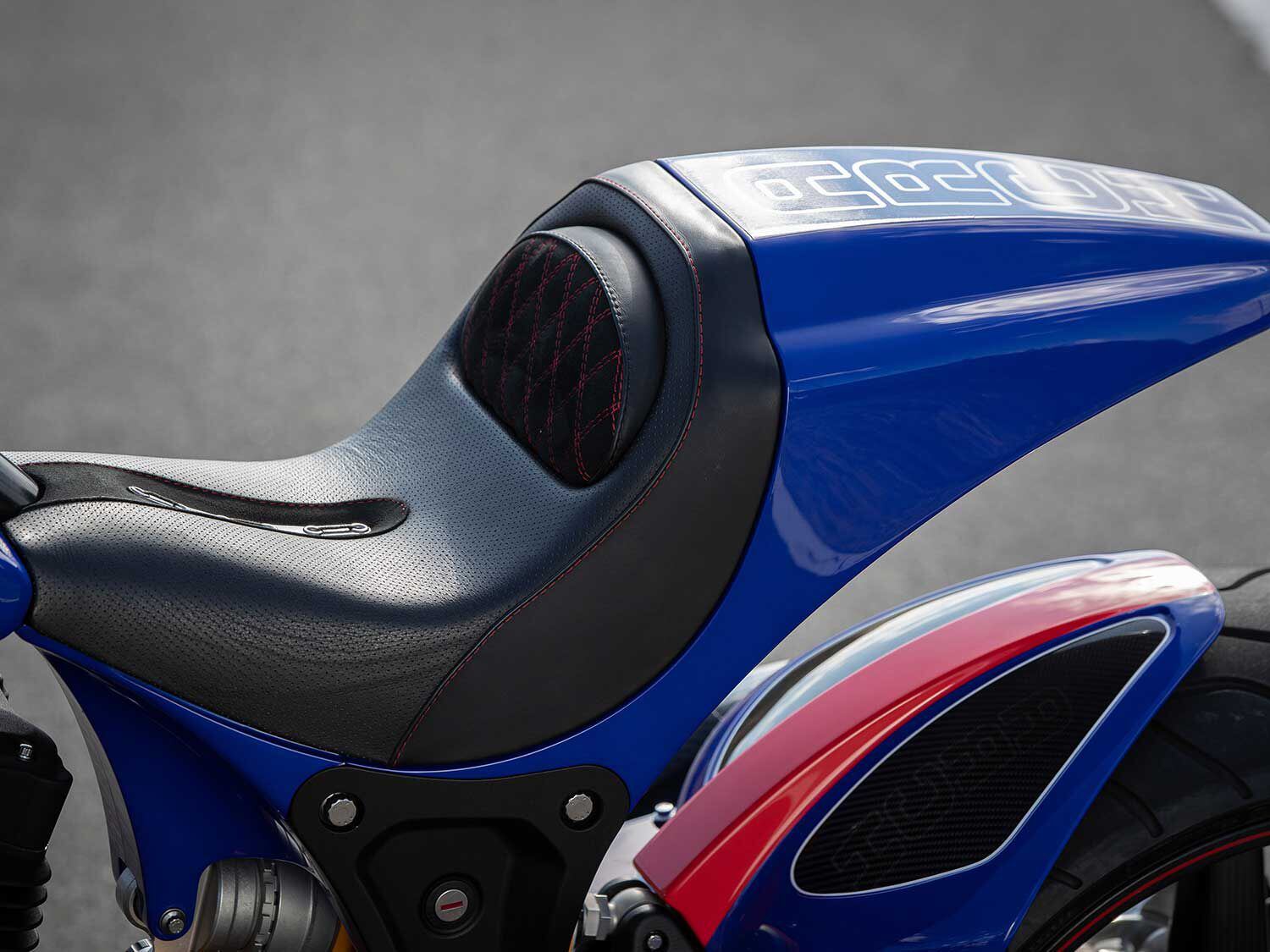 A new seat, new carbon fiber fenders, as well as a redesigned tailsection are meant to improve comfort and contact. (Courtesy Arch Motorcycle/)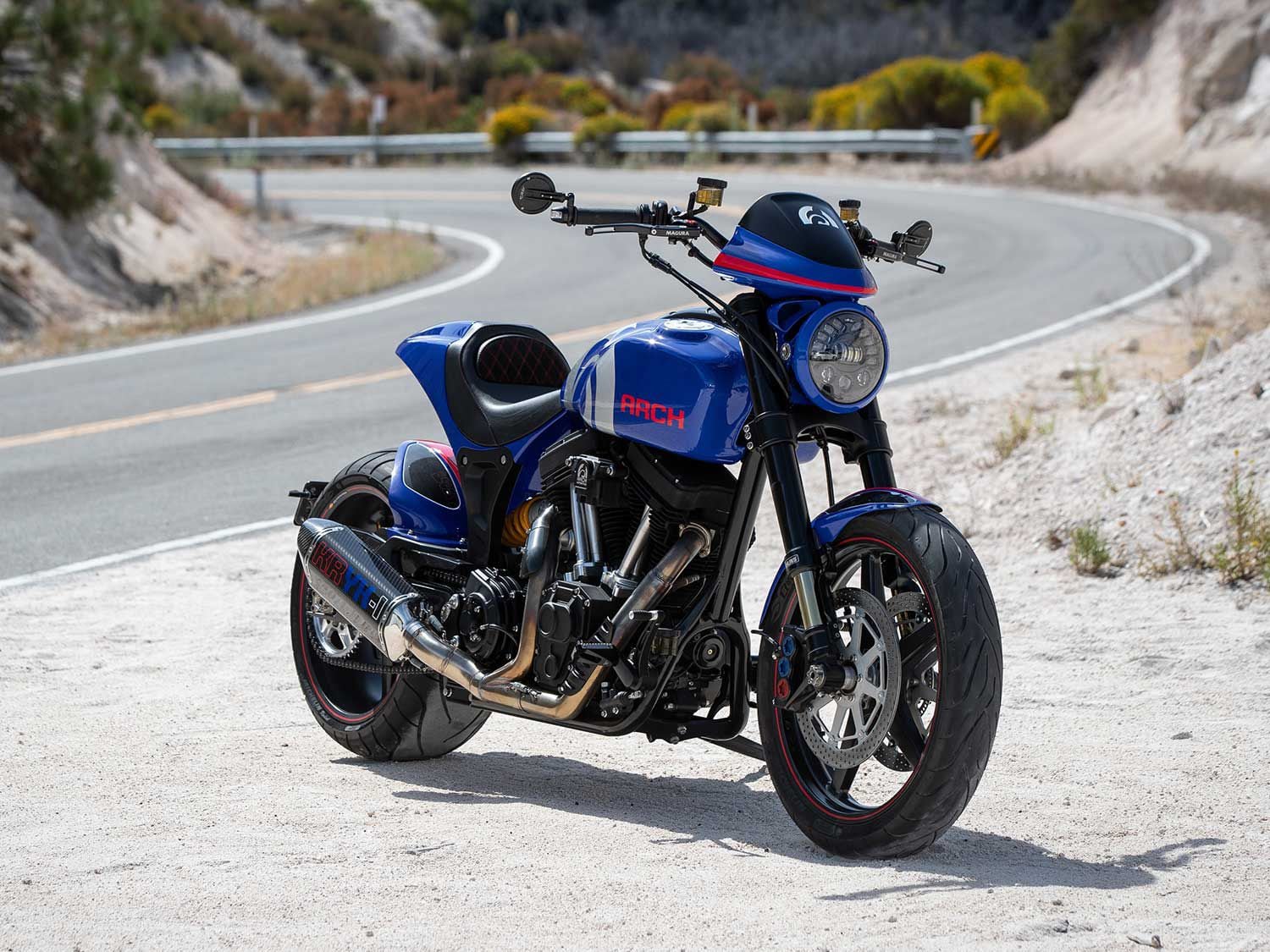 Every $85,000 KRGT-1 is tailored to the customer's ergonomic and aesthetic preferences and built in the company's south LA-area shop. (Courtesy Arch Motorcycle/)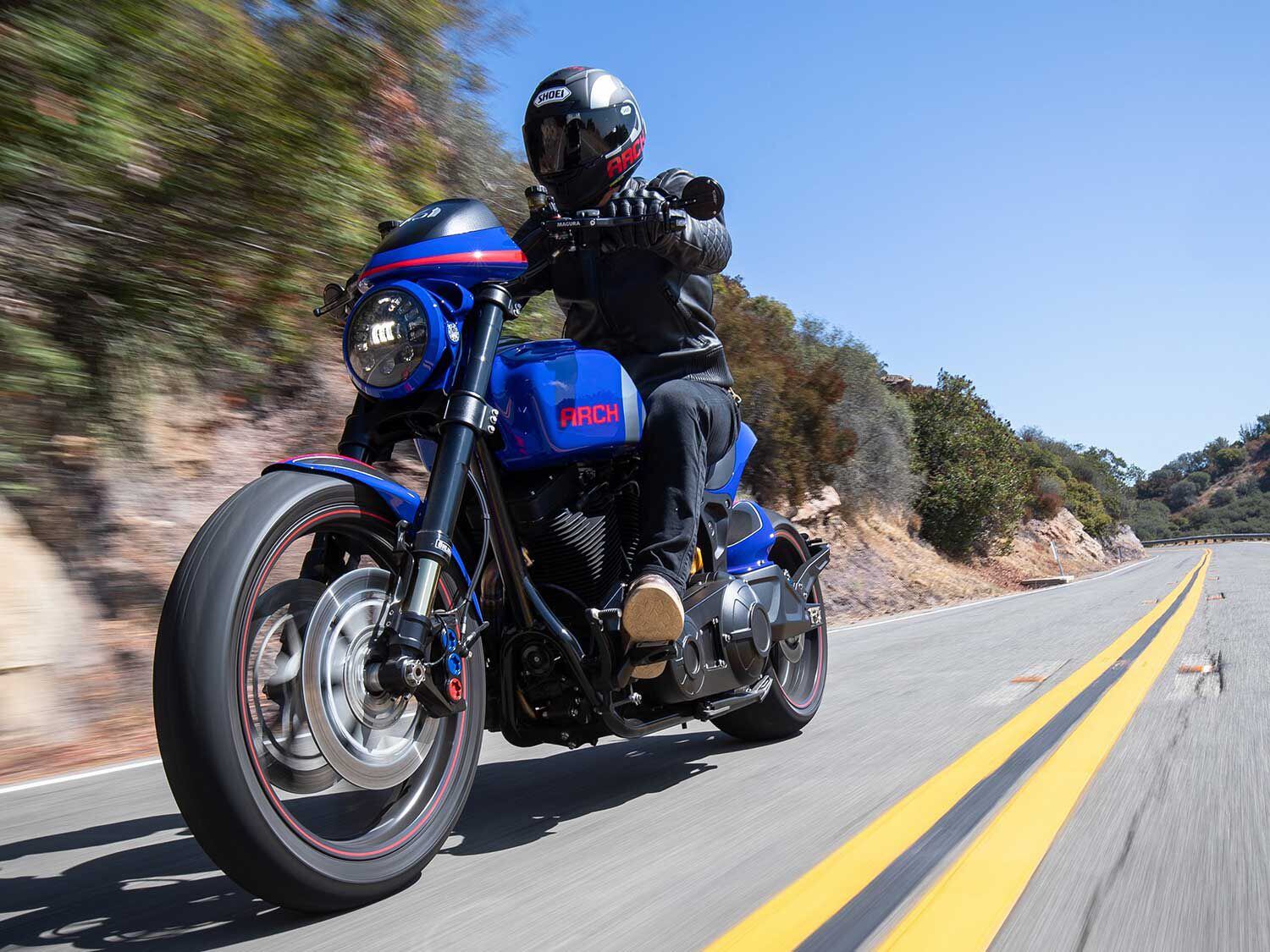 Not cheap, but definitely fun to ride. Keanu and Gard realize it's not everybody's cup of tea, and they're cool with that. (Courtesy Arch Motorcycle/)
2020 Arch KRGT-1 Specifications
| | |
| --- | --- |
| MSRP | $85,000 |
| Engine | 2,032cc, 45-degree Arch/S&S V-twin |
| Transmission/final drive | 6-speed/chain |
| Fuel system | Downdraft fuel injection |
| Claimed torque | 121 lb.-ft. |
| Frame | Tubular steel/aluminum subframe |
| Rake/trail | 30.0°/5.0 in. |
| Wheelbase | 68.0 in. |
| Seat height | 27.8 in. |
| Fuel capacity | 5.0 gal. |
| Claimed dry weight | 538 lb. |
| Contact | archmotorcycle.com |